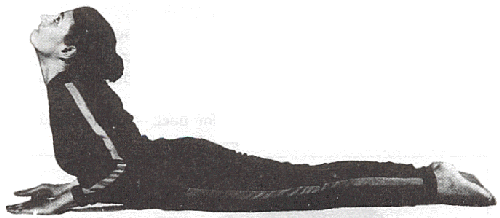 Figure 37: Bhujangasana
Jal Neti
This is a simple yoga treatment to clear the toxic material that collects inside the nose. Many people have nasal defects that affect their eyesight. After doing Jal Neti you will feel relaxed. If done regularly, it improves one's vision most effectively.
Method: Take a Jal Neti pot (a small round pot specially designed for this purpose) and fill it with warm water. Mix in a spoonful of salt. Slowly bend yourself and place the nozzle of the pot at one of the openings of your nose. Slowly bend the pot letting water flow inside. In a minute, the warm water will start coming out of the other nostril.
Change the nozzle of the pot to the other nostril and repeat the process. Let the warm water flow out. Keep sneezing out the water from the nostrils so that none remains inside.